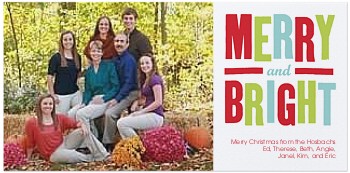 My dad called me on Sunday and said "Soooooo I think we need a Christmas card...could you make this tonight?"
Yes Dad, I sure can....because I am a super speedy designer!!!!
And we have this awesome new family photo so I just dropped it into one of the many super cute Shutterfly Christmas card designs they have and BOOM! Holiday cheer is now coming your way from our faimly to yours! :) HAPPY HOLIDAYS!